---
FlashBoot: Install Windows 7 to New Laptop or New PC
If you dislike Windows 10 due to OS-builtin advertising, forced updates, untimely reboots and pervasive telemetry (which can't be disabled) — then only viable option is returning to Windows 7.
But hardware marches on, and older operating systems hardly can play catch-up. Installation of Windows 7 to new laptop fails right on the first screen: mouse, keyboard and boot device are all inaccessible to Windows setup because of missing USB 3.0 drivers. In this case, error message like this appears: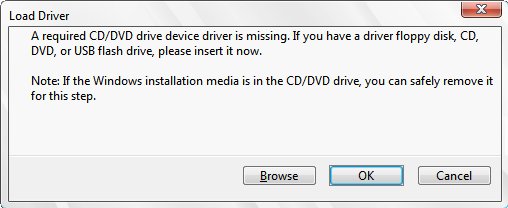 A required CD/DVD drive device driver is missing. If you have a driver floppy disk, CD, DVD, or USB flash drive, please insert it now.
Because of missing drivers for USB 3.0 controller, any plugged-in USB thumbdrive is ignored here, and also it's impossible to move cursor and click OK, because USB-connected mouse and keyboard doesn't work as well.

Using FlashBoot, you can install Windows 7 to new laptop or new PC with no hassles. FlashBoot will prepare Windows setup on USB thumbdrive with integrated drivers, so you can easily and quickly install Windows 7 to any new computer, including Skylake, Kabylake and Ryzen platforms. For your convenience, FlashBoot contains builtin USB 3.0, NVMe and RAID drivers. FlashBoot can also integrate any user-supplied drivers (.inf + .sys + .cat files).
This example demonstrates conversion of Windows 7 setup ISO file with slipstreaming all FlashBoot-builtin drivers to bootable USB thumbdrive, for installation of Windows 7 to the new laptop.
1) Run FlashBoot Pro, click Next: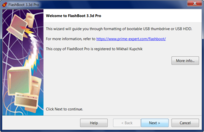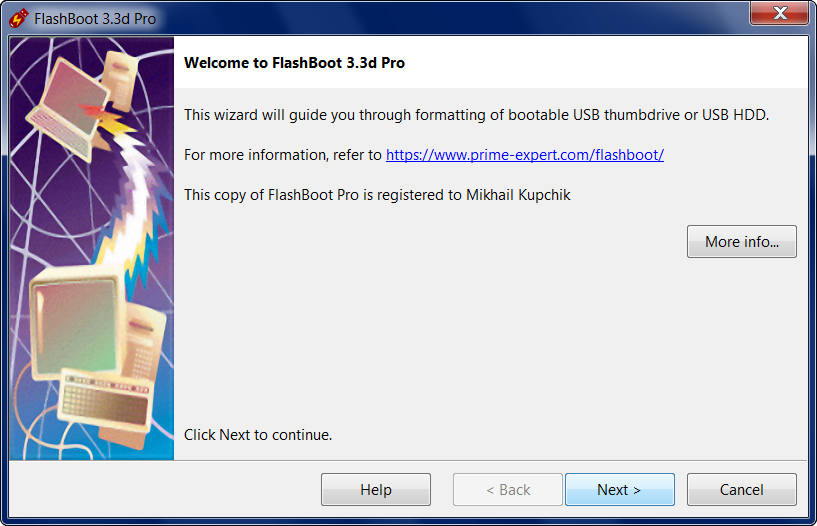 2) Choose "OS installer -> USB" in the Main Menu: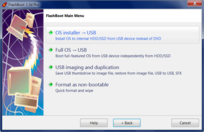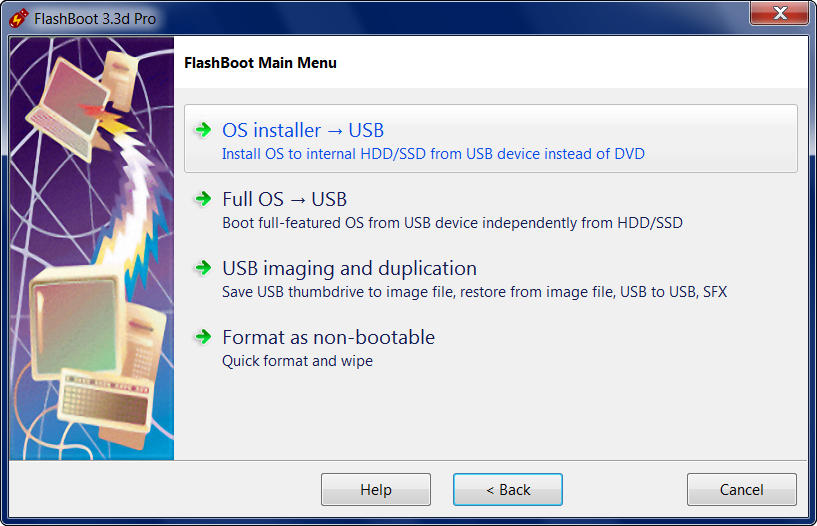 3) Choose "Windows Vista/7/8/8.1/10 installer with added drivers (for BIOS-based computers)" or "Windows Vista/7/8/8.1/10 installer with added drivers (for UEFI-based computers)" in this menu and click Next: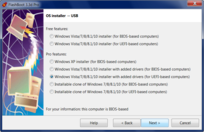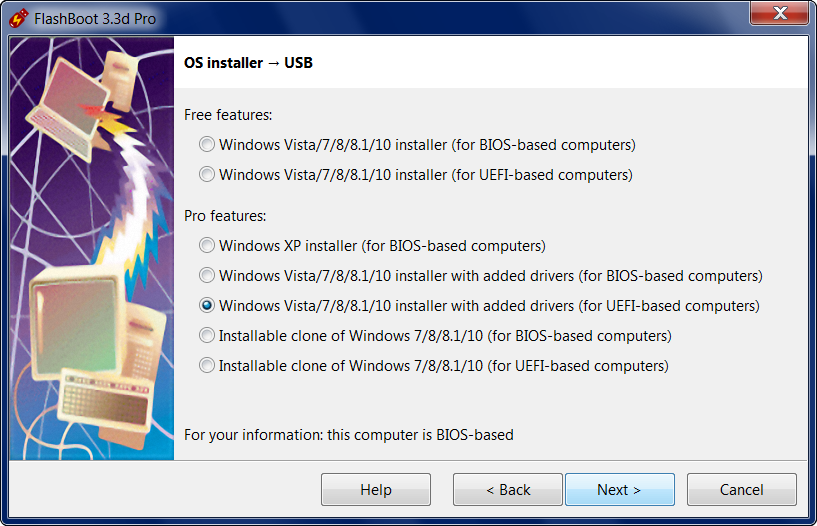 4) Specify ISO image file (or DVD disc, or ESD image file) of Windows setup and click Next: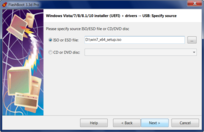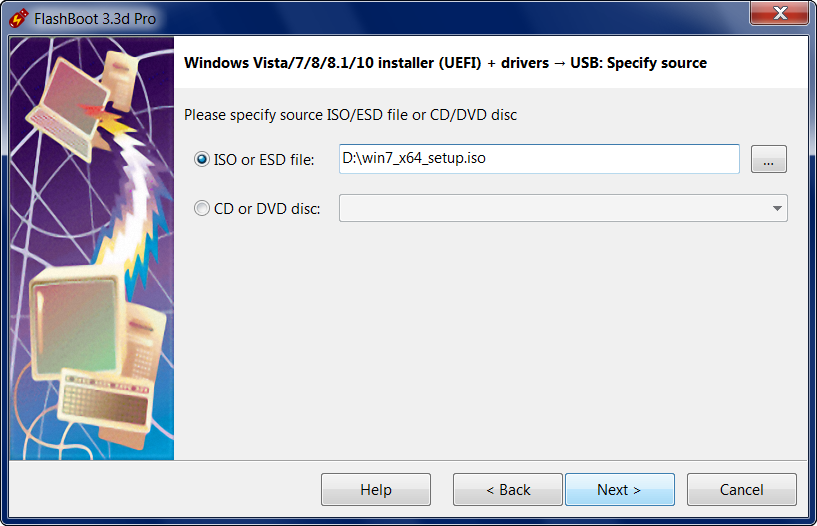 5) Choose which drivers should be integrated and click Next: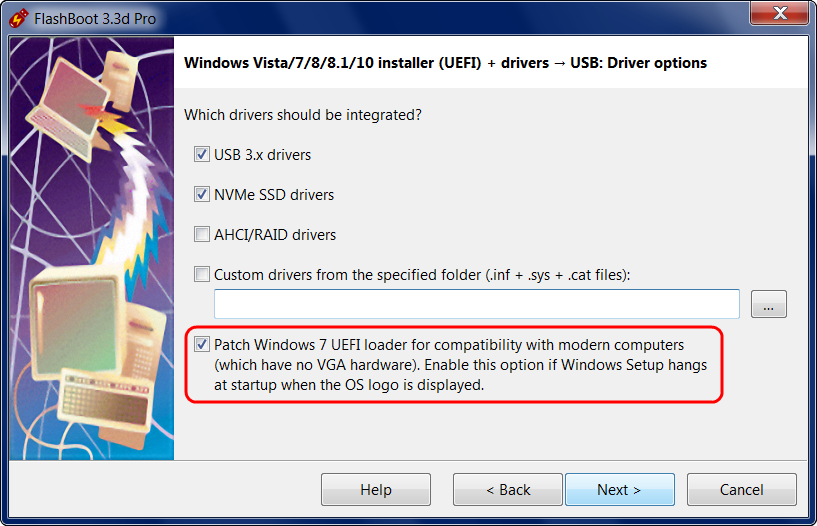 6) Specify target USB storage device and click Next: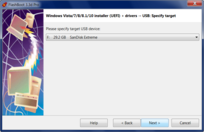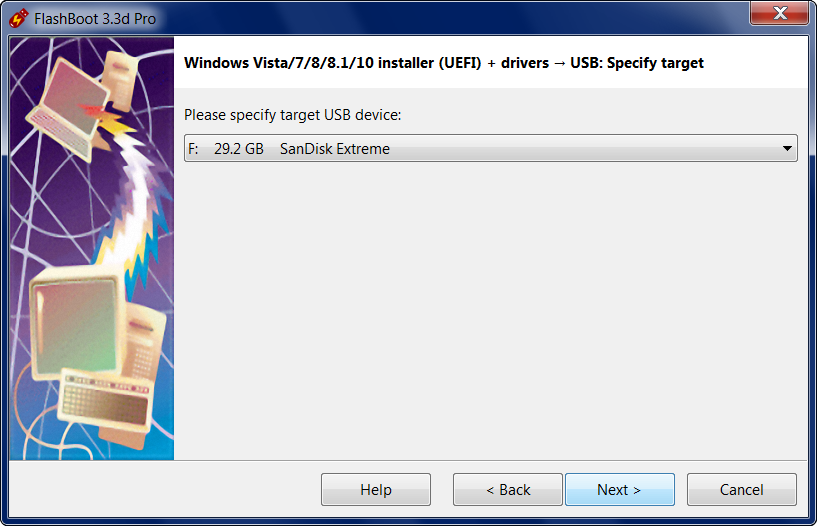 7) If necessary, change volume label and filesystem type, or leave them as is, and click Next: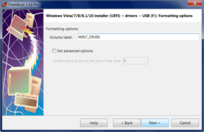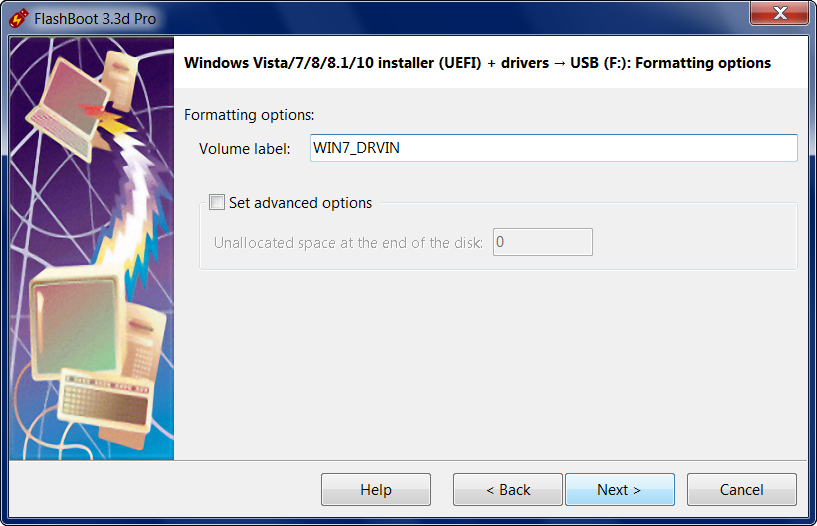 8) Check summary information and click Format Now: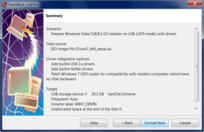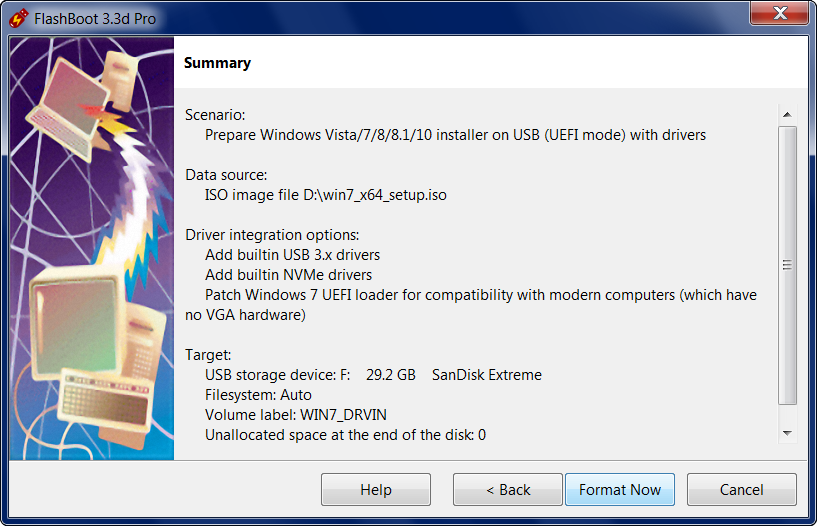 9) Wait for process completion: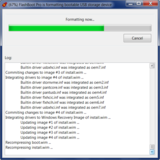 10) Bootable USB storage device is ready to use. Click OK to exit: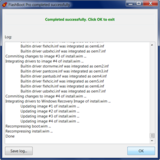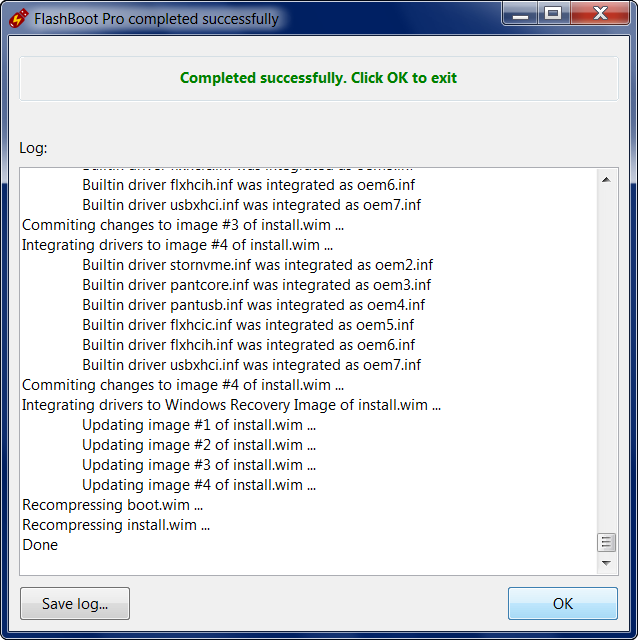 Please note: driver slipstreaming feature requires FlashBoot Pro, but plain conversion of Windows setup ISO file or DVD disc into bootable USB thumbdrive is available in FlashBoot Free.
Prepackaged drivers
FlashBoot Pro comes with builtin drivers for the following hardware, so you don't need to download them separately from vendors websites:
AHCI/RAID drivers
AMD AHCI Compatible RAID Controller
AMD SATA Controller
AMD-RAID Controller [storport]
Asmedia 106x SATA Controller
Asmedia 106x SATA/RAID Controller
Asmedia SATA Express Controller
ATI 436E SATARaid Controller
ATI 4379 SATARaid Controller
ATI 437A SATARaid Controller
Intel(R) 100 Series/C230 Chipset Family SATA AHCI Controller
Intel(R) 200 Series Chipset Family SATA AHCI Controller
Intel(R) 5 Series 4 Port SATA AHCI Controller
Intel(R) 5 Series 6 Port SATA AHCI Controller
Intel(R) 5 Series/3400 Series SATA AHCI Controller
Intel(R) 6th Generation Core Processor Family Platform I/O SATA AHCI Controller
Intel(R) 7 Series Chipset Family SATA AHCI Controller
Intel(R) 7 Series/C216 Chipset Family SATA AHCI Controller
Intel(R) 8 Series Chipset Family SATA AHCI Controller
Intel(R) 9 Series Chipset Family SATA AHCI Controller
Intel(R) C220 series chipset SATA AHCI Controller
Intel(R) C600 series chipset SATA AHCI Controller
Intel(R) C600+/C220+ series chipset SATA AHCI Controller
Intel(R) C600+/C220+ series chipset SATA RAID Controller
Intel(R) C600+/C220+ series chipset sSATA AHCI Controller
Intel(R) C600+/C220+ series chipset sSATA RAID Controller
Intel(R) Chipset SATA/PCIe RST Premium Controller
Intel(R) Desktop/Workstation/Server Express Chipset SATA AHCI Controller
Intel(R) Desktop/Workstation/Server Express Chipset SATA RAID Controller
Intel(R) Mobile Express Chipset SATA AHCI Controller
Intel(R) Mobile Express Chipset SATA RAID Controller
Intel(R) ESB2 SATA AHCI/RAID Controller
Intel(R) ICH7M/MDH SATA AHCI Controller
Intel(R) ICH7MDH SATA RAID Controller
Intel(R) ICH7R/DH SATA AHCI Controller
Intel(R) ICH7R/DH SATA RAID Controller
Intel(R) ICH8R/DH/DO SATA AHCI Controller
Intel(R) ICH8M-E/M SATA AHCI Controller
Intel(R) ICH9M-E/M SATA AHCI Controller
Intel(R) ICH9R/DO/DH SATA AHCI Controller
Intel(R) ICH10D/DO SATA AHCI Controller
Intel(R) ICH10R SATA AHCI Controller
JMicron JMB36X Controller
JMicron JMB37X Controller
Marvell 61xx RAID Controller
Marvell 91xx SATA 6G Controller
Marvell 91xx SATA 6G RAID Controller
Marvell 92xx SATA 6G Controller
NVIDIA nForce Serial ATA Controller
Silicon Image SiI 3112 SATARaid Controller
Silicon Image SiI 3512 SATARaid Controller
VIA AHCI Controller – 6287
VIA MSP RAID Controller – 0581
VIA RAID Controller – 0591
VIA RAID Controller – 3149
VIA RAID Controller – 3164
VIA RAID Controller – 3249
VIA RAID Controller – 3349
VIA RAID Controller – 7372
NVMe drivers
Intel(R) Solid-State Drive DC P3520 Series
Intel(R) Solid-State Drive P3700/P3600/P3500/P3520/750 Series
Intel(R) SSD DC P4500/4600/4501/4601/4608 Series
Plextor(R) NVMe Series Solid-State Drive
Samsung NVMe SSD 970 EVO/PRO, 960 EVO/PRO and 950 PRO
OCZ RD400
OCZ XG3
OCZ ZD6000 Series
USB 3.0 drivers
AMD Root Hub (XHCI)
AMD USB 2.0 Hub
AMD USB 2.0 MTT Hub
AMD USB 3.0 Hub
AMD USB3 Host Controller
AMD USB3.1 eXtensible Host Controller
AMD USB3.1 Root Hub
ASMedia USB 3.0 Extensible Host Controller
ASMedia USB 3.1 Extensible Host Controller
Intel(R) USB 3.0 Host Controller Adaptation Driver
Intel(R) USB 3.0 eXtensible Host Controller
Intel(R) USB 3.0 Root Hub
Renesas Electronics USB 3.0 Host Controller
Renesas Electronics USB 3.0 Hub
Renesas Electronics USB 3.0 Root Hub
VIA USB 3 Hub
VIA USB 3 Root Hub
VIA USB eXtensible Host Controller
Etron USB 3.0 Extensible Host Controller
Fresco Logic xHCI (USB3) Device
Texas Instruments USB 3.0 Host Controller